You are browsing the archive for Uncategorized.
October 21, 2015 in Uncategorized
Two recently published books hold great importance for the study of ancient geography and cartography.  Volume 15 of the Tabula Imperii Byzantini presents a formidable array of information on the geography of late antique Syria.  Meanwhile, Duane Roller's Ancient Discovery masterfully surveys the development of Greek and Roman geographic thought and knowledge.  Both volumes make important contributions to the field, and will prove valuable for years to come.
May 23, 2014 in Uncategorized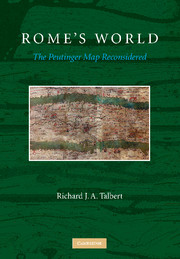 Prof. Richard Talbert's (UNC Chapel Hill) monograph Rome's World: The Peutinger Map Reconsidered is now available in paperback from Cambridge University Press.  The companion website to this study, created by the Ancient World Mapping Center, can be accessed here.